On May 15, 2012, SRCD sponsored an exhibit for a congressional exhibition and reception on STEM Research and Education: Underpinning American Innovation.
SRCD featured research:
The Role of Families in Motivating Latino Youth to Pursue Science in High School
Sandra Simpins, Ph.D., Arizona State University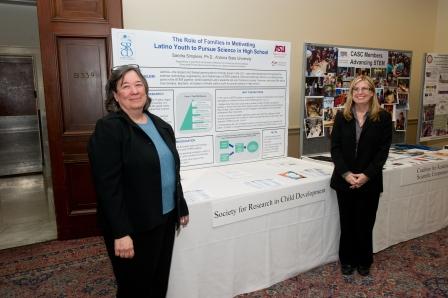 Martha Zaslow (left), Director of SRCD's Office for Policy and Communications, with Sandra Simpkins (right), an SRCD member from Arizona State University.
---
Sandra Simpkins (right) and Martha Zaslow (center) engage with Representative Rush Holt (left), a Representative from the 12th Congressional District of New Jersey.
---
View the event invitation and exhibitors.
View a fact sheet about the National Science Foundation's impact on the state of Arizona.