SRCD Celebrates Lesbian, Gay, Bisexual, Transgender, Queer (LGBTQ+) Pride Month 2023
Components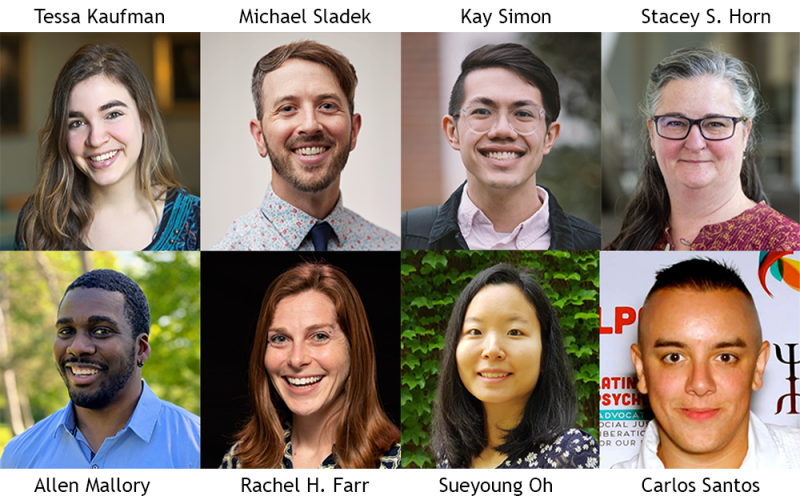 Text
As Pride Month comes to a close, we would like to extend our heartfelt gratitude to the SOGIE Caucus and its remarkable members. Throughout the month, we had the honor of highlighting the incredible contributions and advocacy efforts of Tessa Kaufman, Michael Sladek, Kay Simon, Stacey S. Horn, Allen Mallory, Rachel H. Farr, Sueyoung Oh, and Carlos Santos.
LGBTQ+ Pride Month is celebrated in June to honor the 1969 Stonewall riots and works to achieve equal justice and equal opportunity for lesbian, gay, bisexual, transgender, and questioning (LGBTQ) Americans. The Stonewall uprising marked the beginning of a movement to outlaw discriminatory laws and practices against LGBTQ+ Americans. 
We invite you to read the spotlights below to learn more about these prominent members of the SRCD SOGIE Caucus and the impact they have on the community.
Tessa Kaufman     Michael Sladek     Kay Simon     Stacey S. Horn
Text
Established in 2019, the Sexual Orientation and Gender Identity/Expression (SOGIE) Caucus is comprised of scholars and researchers committed to SOGIE research and supporting the development and well-being of sexual and gender minority (SGM) populations and researchers. Read more about the SOGIE Caucus and how to get involved.