Child Development
Description
Since its inception in 1930, Child Development has been devoted to original contributions on topics in child development from the fetal period through adolescence. It is a vital source of information not only for researchers and theoreticians, but for a broad range of psychiatrists and psychologists, educators, and social workers across the field. Child Development is published on a bimonthly basis.
Components
Text
2018 Journal Impact Factor Scores

2-Year Impact Factor: 5.024
5-Year Impact Factor: 6.151

2018 ISI Journal Citation Reports © Ranking

Psychology, Developmental: 3 out of 74
Psychology, Educational: 4 out of 59
SRCD members receive full digital access Child Development. If you are an SRCD member and would like to access the publication, please log in to your SRCD member account. Not an SRCD member? Learn more about the benefits of membership.
Contact: cdev@srcd.org
View Issues Online
1990 – Present   1930-1989 (in JSTOR)   Articles Published Online to Early View
Call for Special Section Manuscripts:
Specificity, Commonality, and Generalizability in Social-Emotional Development
Child Development invites manuscripts for a Special Section, Specificity, Commonality, and Generalizability in Social-Emotional Development. The Special Section Editors are Tina Malti (University of Toronto) and Charissa S. L. Cheah (University of Maryland, Baltimore County).
Authors who plan to submit a manuscript for the special section are asked to submit a letter of intent by March 1st, 2020. Following a review of received letters (roughly 1 month), potential contributors will be contacted to submit full manuscripts that will be due by August 1st, 2020.
Image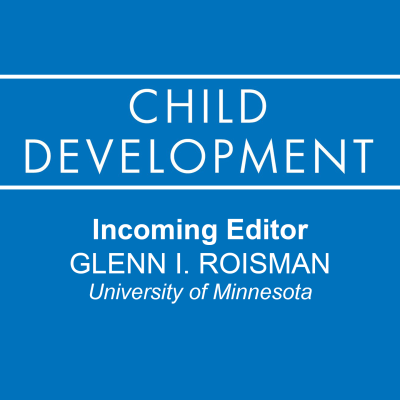 Child Development Editorial Board
Description
Under incoming Editor-in-Chief Glenn I. Roisman, the current Editorial Board will be handling submissions beginning July 1, 2019. The previous Editorial Board under Editor-in-Chief Cynthia García Coll handled submissions from July 1, 2013 - June 30, 2019.