Components
Text
It is expected that by 2044, the United States will become a majority-minority society, with Non-Hispanic Whites comprising less than half of the U.S. population. In 2020, children  will be a majority-minority population in the United States. As the nation prepares for this transition, the Society for Research in Child Development (SRCD) has launched an annual Lecture Series entitled Child Development in a Diverse Majority Society.
The idea for the SRCD Lecture Series grew out of discussions of the SRCD Ethnic and Racial Issues Committee on ways that SRCD could seize on this unique and historical opportunity to lead the conversation by sharing research on child development that will help children, and their families and caretakers, navigate this transition. The goal is to foster positive, inclusive approaches through research to engender self-respect and respect for others, increasing opportunities for healthy development and success in all children and youth. 
Each year, SRCD invites a distinguished scholar who is researching this critical topic to deliver this annual lecture.
Annual Lectures
Image
2019
Description
Preparing Racial-Ethnic Minority Children for STEM Opportunities: Promoting Identity and Efficacy in Community Afterschool Programs
Co-hosted with the College of Family and Consumer Sciences at the University of Georgia.
This lecture was held on April 2, 2019 at the University of Georgia in Athens, Georgia, USA.
Featured Speaker:
Emilie Smith, Ph.D., Professor, Human Development and Family Science
Introduction by:
Laura L. Namy, Ph.D., Executive Director, Society for Research in Child Development
Linda Kirk Fox, Ph.D., Dean of the College of Family & Consumer Sciences, The University of Georgia
Image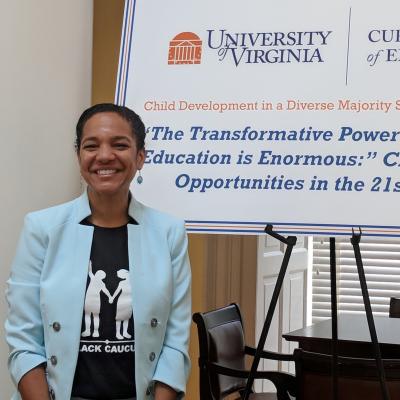 2018
Description
"The Transformative Power of Diversity in Education is Enormous": Challenges and Opportunities in the 21st Century
Co-hosted with the Curry School of Education at the University of Virginia.
This lecture was held on July 18, 2018 at the University of Virginia in Charlottesville, Virginia, USA.
Featured Speaker:
Joanna Lee Williams, Ph.D., Associate Professor, University of Virginia
Panelists:
Natalia Palacios, Ph.D., Associate Professor, University of Virginia
Genevieve Siegel-Hawley, Ph.D., Associate Professor, Virginia Commonwealth University