Components
Image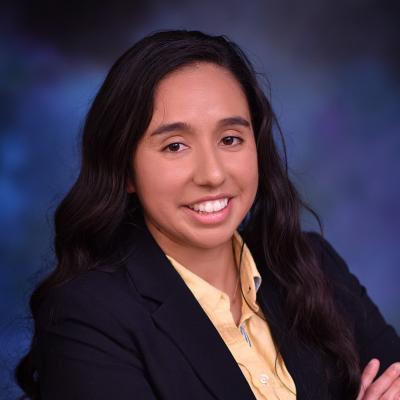 Dr. Lorena Aceves
Description
Dr. Lorena Aceves is a research scientist II in the education research area at Child Trends. Being a first-generation Latina student herself, Dr. Aceves' mission with her career is to use developmental science to empower Latinx communities and transform educational systems to be more equitable at the intersection of research, policy, and practice. Her research has focused on examining the cultural, familial, and individual level factors that contribute to Latinx youth's educational success. 
Text
Prior to joining Child Trends, Dr. Aceves served as a postdoctoral fellow with the Society for Research on Child Development Federal Policy at the Office of Head Start within the Administration for Children and Families at the U.S. Department of Health and Human Services. In this role, Dr. Aceves was actively involved in the policy and training and technical assistance divisions of Head Start. This experience allowed her to understand how policy, training, and technical assistance operate for a federally-led, locally-operated program. At Head Start, she also was actively involved in Office of Head Start's Diversity, Equity, Inclusion, and Accessibility (DEIA) commission and helped lead DEIA initiatives across the office. Dr. Aceves recently published a Social Policy Report titled Transforming Policy Standards to Promote Equity and Developmental Success Among Latinx Children and Youth. This report focuses on how to apply an equity lens on the developmental experiences of Latinx children and youth. She is also invested in the success and access to diverse career paths of junior Latinx scholars. She spends some of her free time mentoring and running a support group for junior Latinx scholars in developmental science. Dr. Aceves earned her Ph.D. and MS in Human Development and Family Studies from The Pennsylvania State University. 
Image
Dr. Isha W. Metzger
Description
Dr. Isha W. Metzger is an Assistant Professor of Clinical-Community Psychology at Georgia State University, Adjunct Clinical Psychology Faculty in the Psychology Department at the University of Georgia and Visiting Research Faculty at the Center for Interdisciplinary Research on AIDS' at Yale University. Dr. Metzger earned her Ph.D. in Clinical-Community Psychology from the University of South Carolina, she completed her pre-doctoral internship at the Medical University of South Carolina, and she received postdoctoral training both at the National Crime Victims Center and at Yale University. 
Text
As Director of The EMPOWER Lab, Dr. Metzger focuses on reducing mental health disparities through "Engaging Minorities in Prevention, Outreach, Wellness, Education, & Research." Dr. Metzger's research program is aimed at understanding the role of culturally specific risk (e.g., racial discrimination) and resilience (e.g., racial socialization) factors to better inform cognitive and behavioral outcomes for Black and other ethnically minoritized youth receiving mental health treatment in community-based settings. Dr. Metzger is a Licensed Clinical Psychologist, Owner of Cultural Concepts Consulting, LLC, and a TF-CBT certified trainer who offers award-winning, evidence-based instruction, supervision, workshops, and consultation to students, professionals, and organizations across the nation to provide mental health treatment for underserved individuals. In addition to her book
The C.A.R.E Package for Racial Healing
, a recent chapter in
Making Black Lives Matter
, and the Treatment Manual for Black youth engaged in Trauma-Focused Cognitive Behavioral Therapy, Dr. Metzger has translated the results of her research for lay audiences through her social media presence with
@TheEMPOWERLab
, the
Black & EMPOWERED Podcast
, and
mass media presence
in outlets such as the Washington Post, Peace of Mind with Taraji P. Henson, and NPR.   
Image
Dr. Valerie N. Adams-Bass
Description
Dr. Valerie N. Adams-Bass is an applied researcher seeking to advance scholarship that provides meaningful contributions to the lives of Black youth and their families. Her research integrates contextual factors with a focus on how Black children see themselves and related outcomes. She is most interested in examining how media exposure influences inter-personal interactions and self-concept. Her research also investigates how racial/ethnic socialization experiences and racial identity are related to the process of identity development, the social and the academic experiences of Black children and youth.
Text
Dr. Adams-Bass lived and taught in Namibia as a Volunteer Teacher for Africa and served as a Rotary Ambassador Scholar in South Africa where she participated in a community-based research project with South African youth. She is a Developmental Psychologist, earning her Interdisciplinary Studies in Human Development doctorate from the University of Pennsylvania and a Master of Education in Urban Education from Temple University. Dr. Adams-Bass regularly trains youth development professionals to use culturally relevant practices when working with African American children and youth. She is a faculty affiliate of the Racial Empowerment Collaborative at the University of Pennsylvania and the Youth-Nex Center to Promote Effective Youth Development in the School of Education and Human Development at the University of Virginia.  Dr. Adams-Bass is the co-host of Raising Joyful and resilient Black Children Podcast. She currently serves as the secretary of the Society for Research on Child Development (SRCD) Black Caucus Executive Board and is a member of the Research Advisory Board Member for National Court Appointed Special Advocates Guardians at Litem (CASA/GAL )Association for Children. 
Text
The webinar will be moderated by Renée Williams Hockaday, SRCD Director of Communications and Marketing.